Tasty Treats for the Big Weekend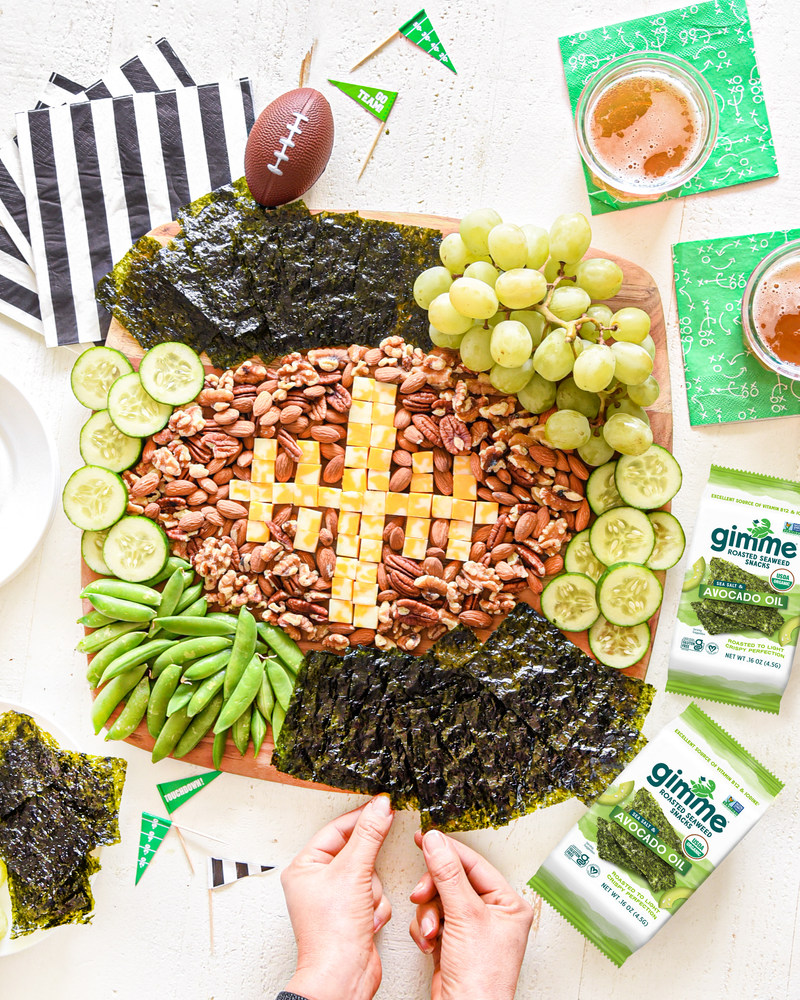 Did you know February is special this year? With the Big Game falling on February 13 – the latest it's ever been held since its inception in 1967 – and Valentine's following the next day, this month delivers an unprecedented opportunity for back-to-back fun celebrations in one packed weekend. Okay, we know…technically Valentine's Day isn't the weekend but we like that even better, because it reminds us that love is such a great force, it can't even be stopped by a Monday morning! Either way, it's a good time for epic snacks and meals made with love. 
Super Bowl Sunday Winners
We'll admit it: we love the snacks as much (or dare we say more?) than the game. Here are some healthier options that will still score a taste bud touchdown.
Secret Ingredient Popcorn – Instant delish! Start with plain popcorn, then add a drizzle of avocado oil, sea salt and crumbled Teriyaki Roasted Seaweed Snacks. Oh-so-good! Throw in a handful of wasabi peas if you've got heat-lovin' guests.
Better Charcuterie – Cheese boards and charcuterie plates are perennial crowd-pleasers. We like to balance out those heavier bites by mixing in crudités on the lighter side: apple and cucumber slices make great "crackers," or add grapes and berries for sweetness. Get your green crunch on with edamame, snow peas, broccoli, and of course our Roasted Seaweed Snacks!
Pizza with a Twist – Level up your pizza game with our Gluten-Free Seaweed Pizza Crust – it's easier than you might think. Just a few simple ingredients (eggs, GF flour, zucchini & seasonings) come together to create a light, crispy crust that can handle hearty toppings, though we like the simplicity of fresh mozzarella and chopped roasted veggies.
Savories with Your Sweetie 
Even though Valentine's Day is associated with romantic love, we like to think of it as a day to celebrate love in all its forms, not for lovers only but for family, friends (Galentine's Day, anyone?) or anyone who holds a place in your heart. 
Why not invite that Special Someone – or Someone's - over for a fun dinner you can make together? Our easy & delicious California-inspired sushi rolls with savory crab, creamy avocado and crunchy veggies is a suitably swoon-worthy dish. Plus the fun of first-time rolling is bound to get everyone laughing together! (Don't worry – it gets easier the more you do it).
Ingredients
gimMe Sushi Nori or gimMe Big Sheets

Cooked white rice

Crab of your choice: fresh lump or imitation

Cucumbers and carrots, cut into thin sticks

Avocado, sliced

Sesame seeds, toasted 
Instructions: gather all ingredients, grab your sushi mat and get rolling! 
Using one sheet of gimMe at a time, place nori rough side up on mat. 

With damp hands, scoop cooled rice on to nori and press flat, until you have a ¼ - ½ inch rice layer. ​Sprinkle rice with toasted sesame seeds.

Add crab and avocado, then place the veggie sticks across the width of the nori, leaving a border of about an inch from the edge closest to you.

Time to roll! Hold ingredients with your fingers, and roll up like a burrito, tightly tucking in all the fillings. Lift the sushi mat up off of the tucked portion and continue to roll tightly, moving the mat after each rotation. ​Remove mat when done.

Cut your masterpiece! Avoid sticky rice issues by using a wet serrated knife. Cut sushi roll in half, then cut each half in half, until you have 8 even bites.​

Enjoy! Pile on any of your favorite tasty fixings, like soy sauce, wasabi, pickled ginger.
No matter whether you spend the weekend cheering wildly or snuggling up with someone you love – or both! – we hope your celebrations are full of yummy goodness and happy moments.